In today's business environment, there is so much economic uncertainty and the slow economic recovery has caused many companies to change their stand on marketing and hiring budgets. In short, budgets are reduced drastically but companies remain wanting to gain the same or even better results with the new decreased budgets. Sounds like mission impossible? Almost but not if you use the right strategy and customer service platform.
Growing the number of new customers is important but even more critically important is protecting and growing your current customer base. Why? Because they already know your brand and have established a relationship with you over a long period of time. Cross selling and upselling will be easier, not to mention new product and/ or service offerings.
Most brands focus on new conversions and forget that their current business growth is due to existing customers. As the saying goes, you should always keep the flame alive in every relationship and this is often overlooked. Once the leads have been converted successfully into customers, they are usually left in the lurch after the "honeymoon period" of 3 months is over.
Moreover, to manage current and new customers on a more efficient basis, the right customer platform is essential to ensure total customer satisfaction and continued growth. Imagine with just 1 single platform, you not only can communicate with customers effectively on a constant basis, perform fast customer service recovery, convert new leads into customers effortlessly and even collaborate efficiently with your internal team for overall business performance. Doing more with less – this is when Rych comes into play.
Here are 5 awesome features of Rych's customer service platform:
1. Professional Support Chat
A single window with tabs for both internal and external communication and any new messages that have not been attended to will automatically be placed under the "Unassigned" subtab, together with both "Open" and "Close" subtabs. The simplicity of the segmented chat support features makes the professional platform easy to use and is user friendly.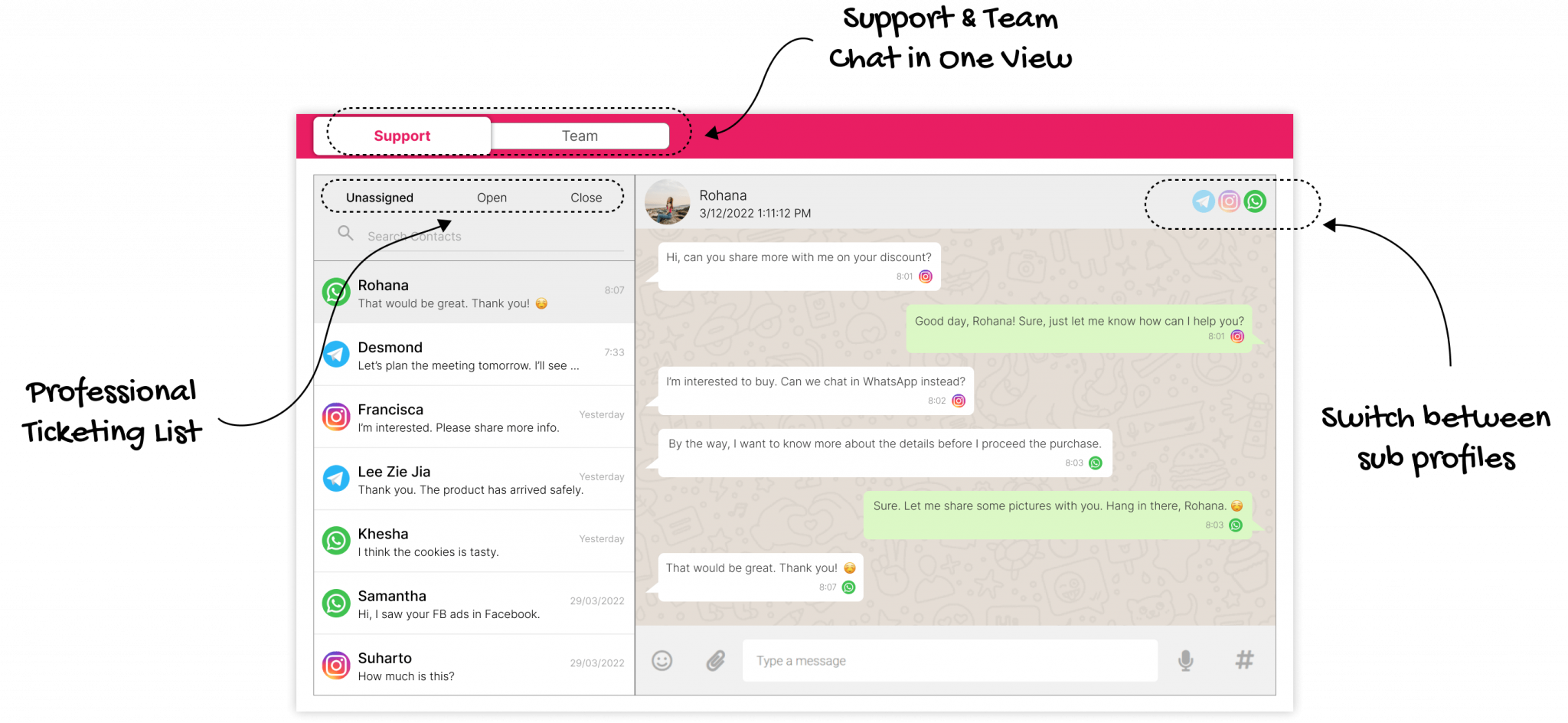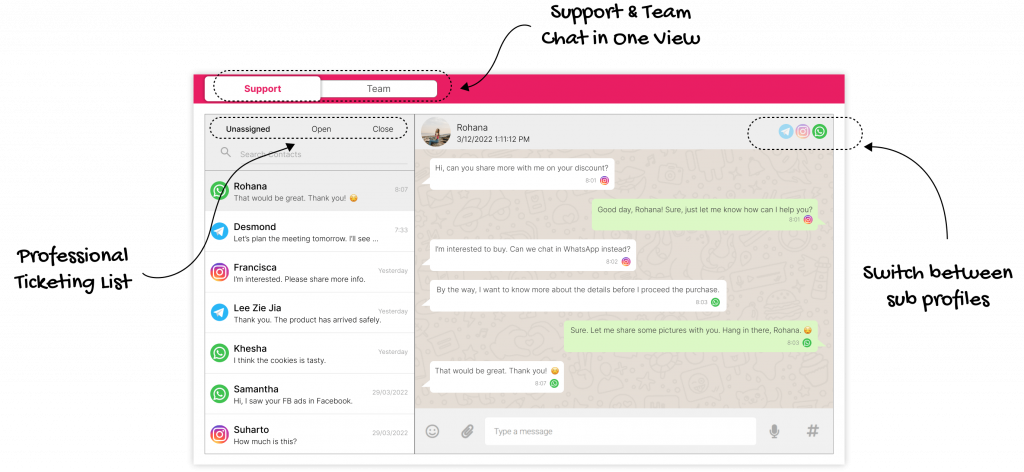 You are not only able to respond quickly but are able to manage messages from all platforms, even switching between the different channels with a customer (Eg. From Instagram to Whatsapp) but the chat history remains in a single frame for efficient management.
So if any team member who takes over your shift or helps to cover your duties when you are on leave, will know what is exactly going on because all the conversations are in one single frame for every individual customer. How cool is that?
2. Team Chat Collaboration
You are now able to connect and collaborate with your team in real time. Plus you can also assign different roles (user, Admin etc) to team members. An Admin role will allow you to assist other team members in handling conversations and inquiries from customers via multiple channels in one single platform.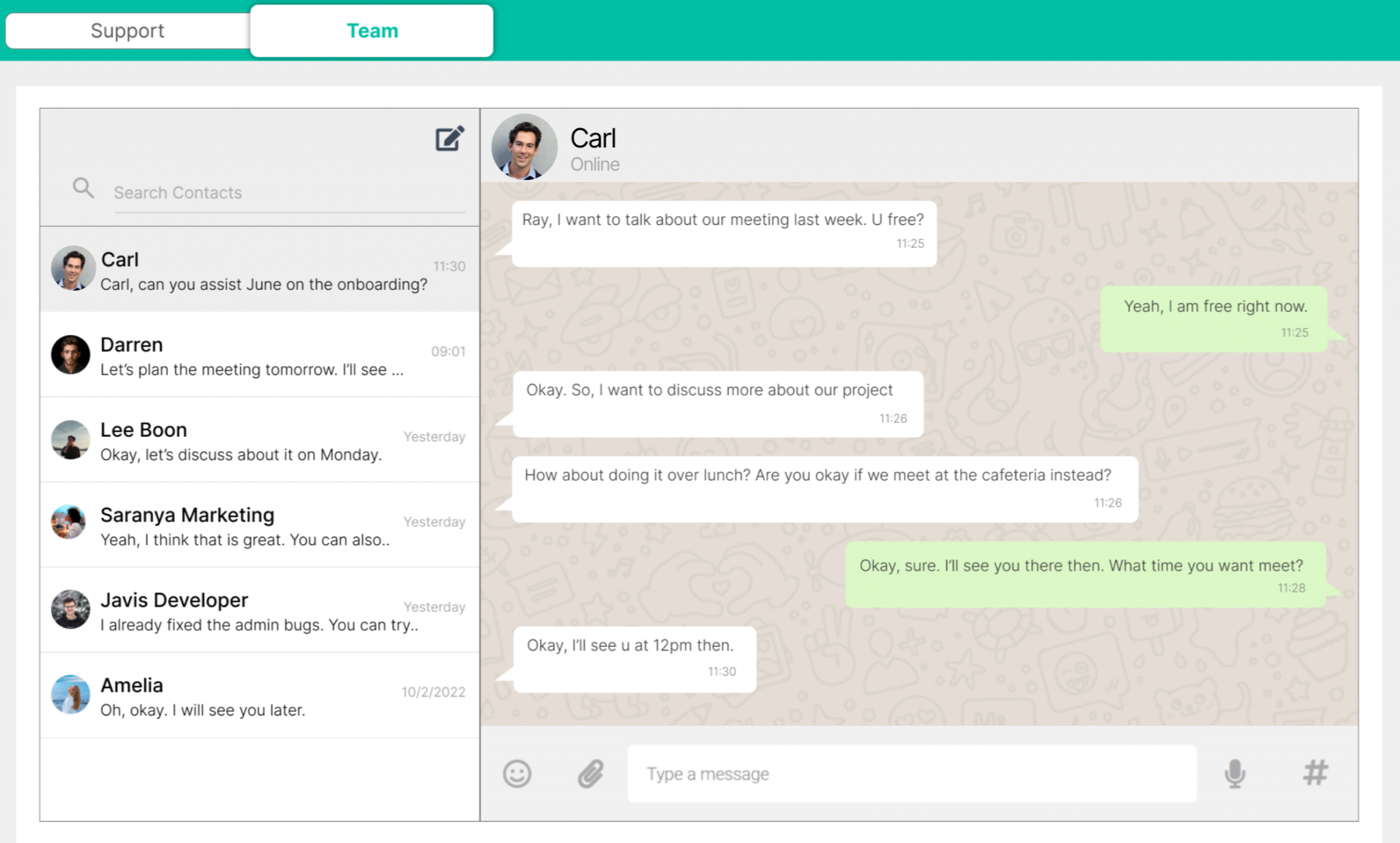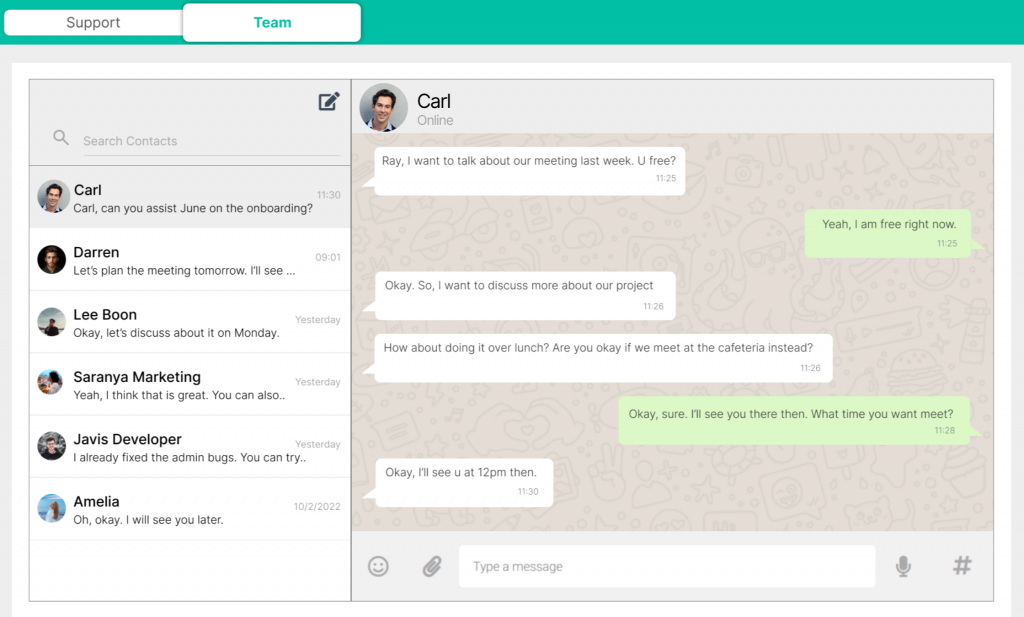 Response time to inquiries is faster and you get to attend to more customers in one day because of the increased efficiency. It makes your brand's tone of voice consistent because all the chats are in one single overview. Feedback and comments are visible too to help everyone stay on the same page.
More and more customers are turning to social media for their inquiries and at times, they love to toggle between 2 or 3 of their favourite social channels. According to Statista, 47% of US consumers have a more favourable view of brands that respond to customer questions or complaints on social media.
Companies that have fast response time tend to get many shoutouts and this is considered free branding for you. So you achieve an improved customer satisfaction score, increased team performance and boost in sales revenue.
3. Customer Profiling
Having a huge customer base is important but more so in having an active one because they provide a consistent source of revenue. Active customer profiles allow you to interact and engage with your customers on a regular basis.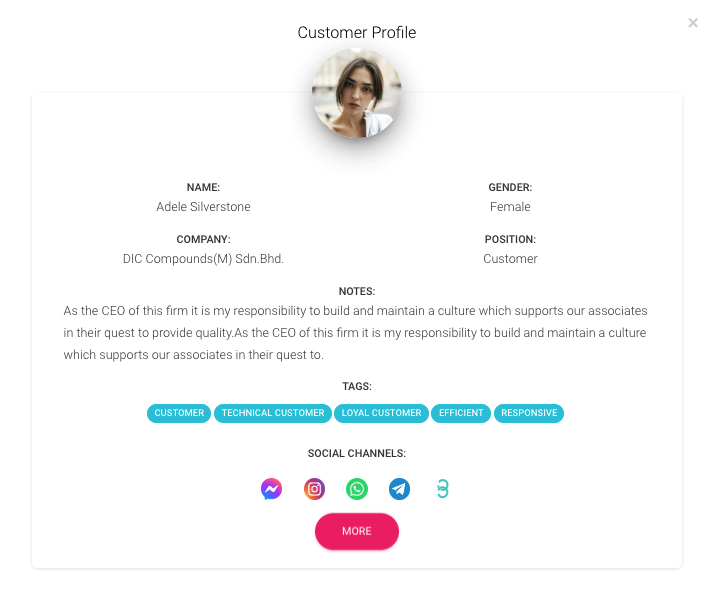 Creating a customer profile is just a click away and you can even do it while chatting with the customer. All you need to do is just fill in the information given by the customer and submit when you are done.
The platform automatically saves the customer profile and you will notice the customer's name in the chat box will turn from red to black to indicate that it is an active profile. You can also categorise individual customer profiles easily by adding notes. Having an organised database is crucial for marketing, sales and support purposes.
4. Insights
Data is a core component of marketing campaigns and is key to making wise business decisions. When you have the right data, you gain valuable insights not only on evolving trends in your customer demographics but also on the company's social channels and overall team performance.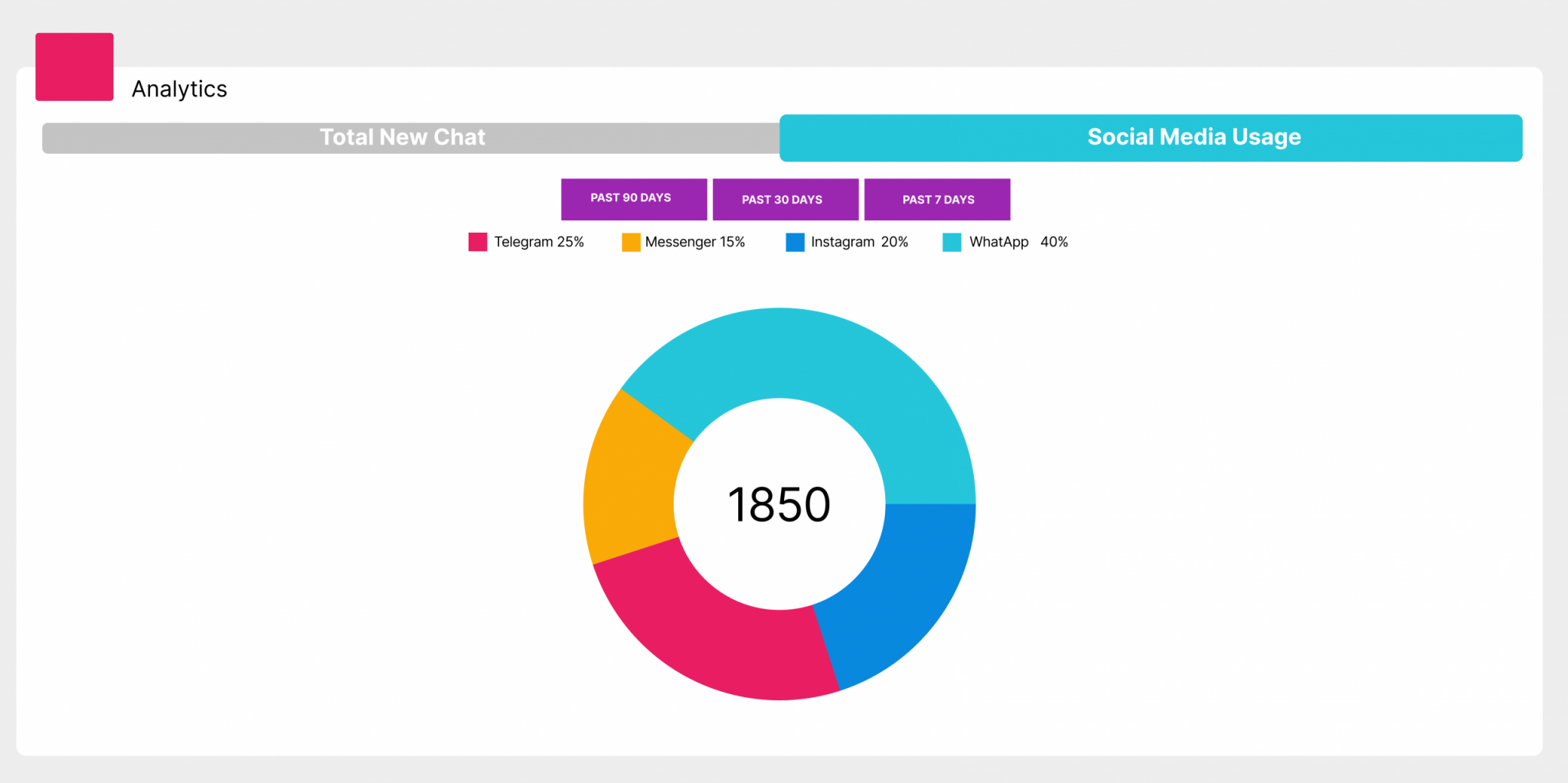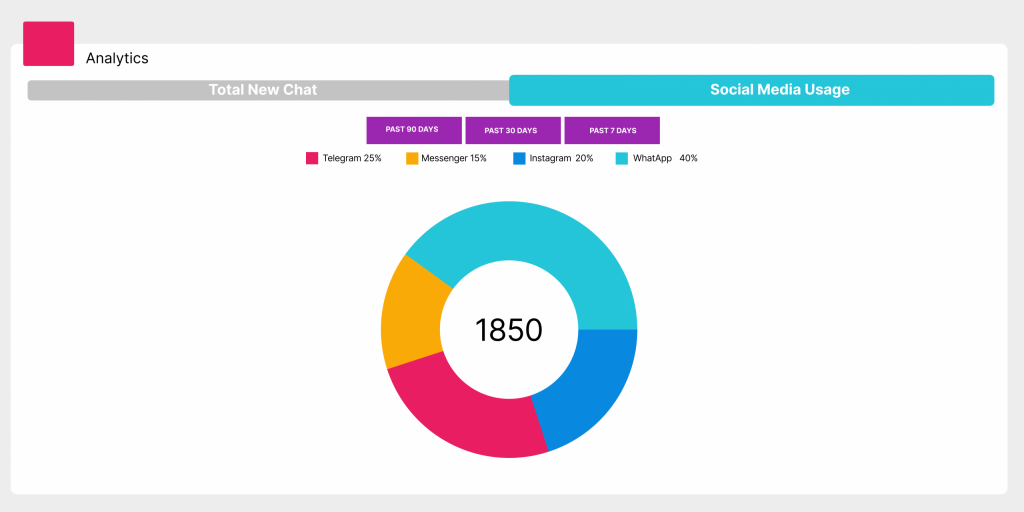 These insights help you keep track of all tickets and stay on top of the game. Reports can be generated electronically through Rych's user-friendly interface for analysis anytime and anywhere.
Knowledge is power and the data gives a sneak peek into what your customers' favourite social channels are, their preferences for specific product and/ or service offerings so you can fine tune your marketing strategies in real time as well as making informed decisions on which product and/ or service you should keep or abandon. Even that equipment upgrade you have been thinking about because it will most likely boost efficacy and drive business turnover.
5. Profile Target Search
Don't you just love target search? It means that you can be specific in finding what you want. There are various customer demographics and at times, you have a particular campaign which is only for certain groups of people.
Eg. You have a unisex fashion store and you want to target females this time because you have a new shipment of beautiful jackets that just came in for the summer collection. So you can do a profile target search based on hashtags (#female/ #woman/ #girl in this case), name, email or notes and launch your marketing campaign to the specific target audience.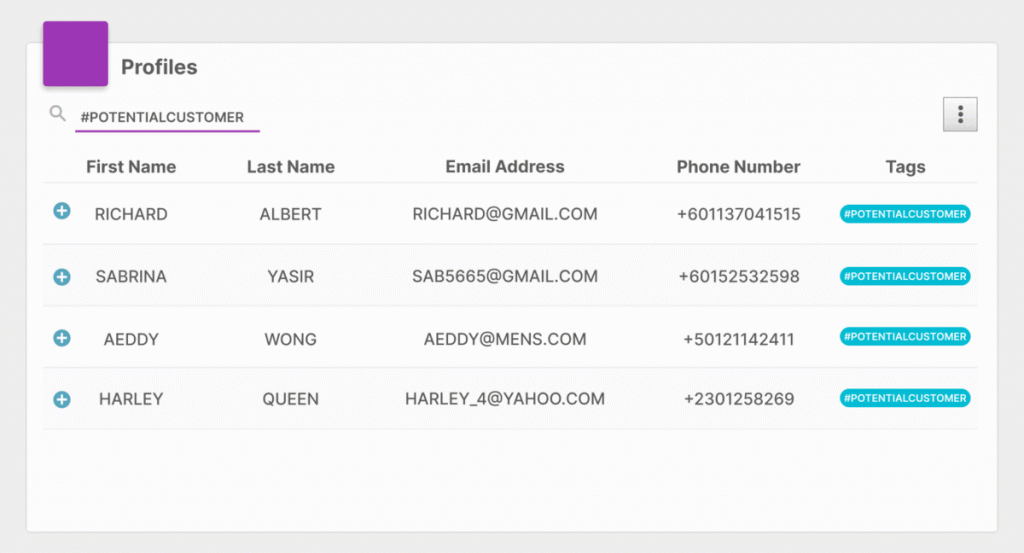 Targeted marketing campaigns are no longer a hassle and you get to amend customer profiles as they grow with you because preferences can change over time. You will always be able to connect with them well because you have their profiles to back you up.
In summary, you can achieve more with less when you use Rych because everything is available in one single platform for customer service, marketing, sales and team collaboration purposes. You no longer need to pool data or information from different channels manually. Moreover, you get to improve the total customer satisfaction score and overall customer experience as well as raise your team efficiency and company sales.