With COVID-19 making physical touch a no-no, more and more individuals are using digital networks, it's probably time to use the WhatsApp Business QR Code for your business.
WhatsApp is one of the most widely used messaging apps in the world right now. If you've got WhatsApp on your phone, I'm sure we can communicate. You use it to communicate with your family, friends, and your customers or clients if you are a business.
And speaking of business, how can you use a digital platform such as WhatsApp to market your business? WhatsApp has developed an innovative function with this in mind. With this tool, your customers can easily get in touch with you.
WhatsApp Business QR Code
Today, QR Codes are becoming more and more widespread, appearing across a wide range of different businesses. This tendency extends to messaging applications like WhatsApp.
A feature called WhatsApp Business QR Code has been added to the service. WhatsApp has already published an innovative feature to help companies communicate with their consumers more swiftly and easily. As long as your company has a QR Code, current and potential clients may send you a WhatsApp message.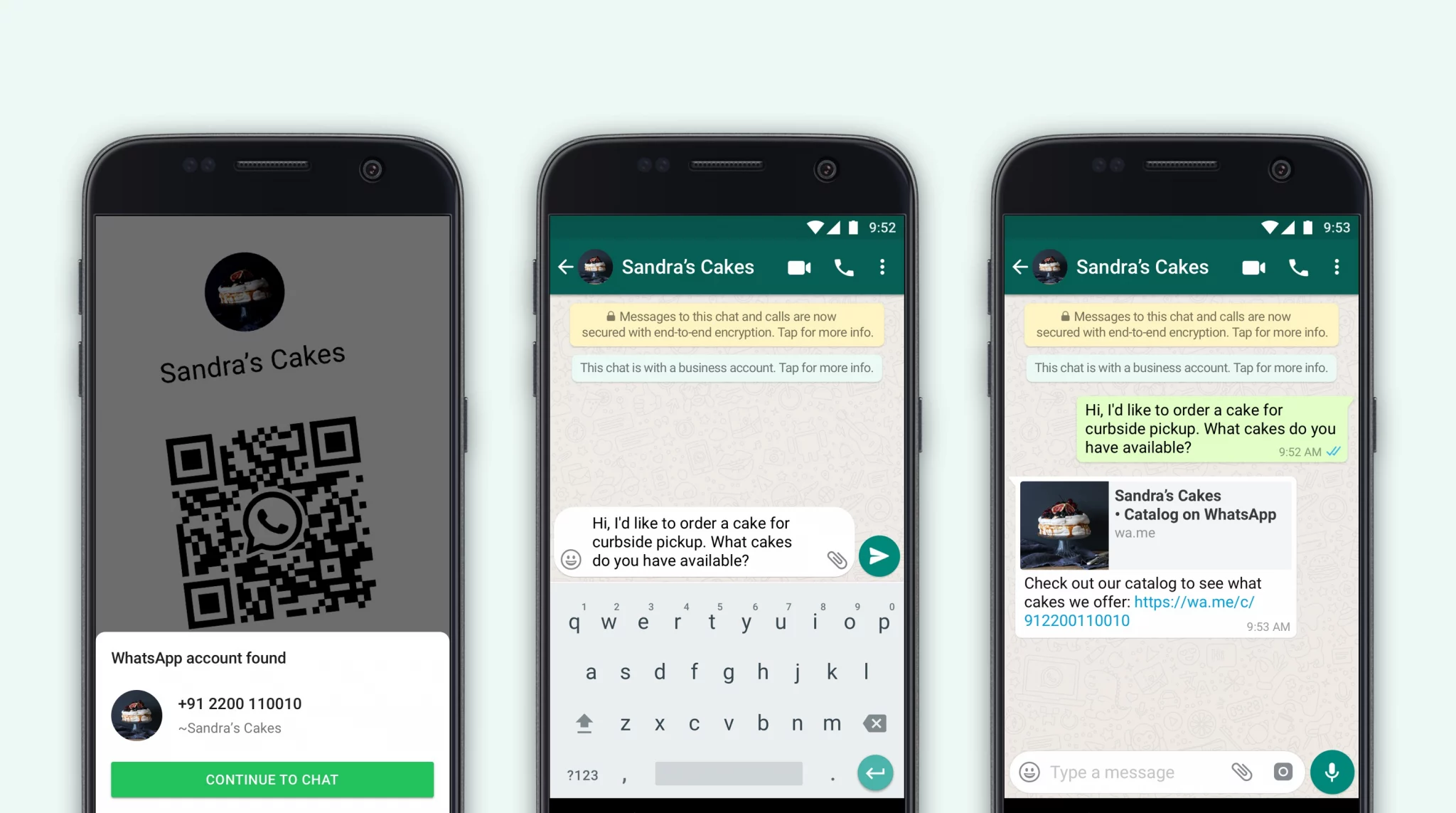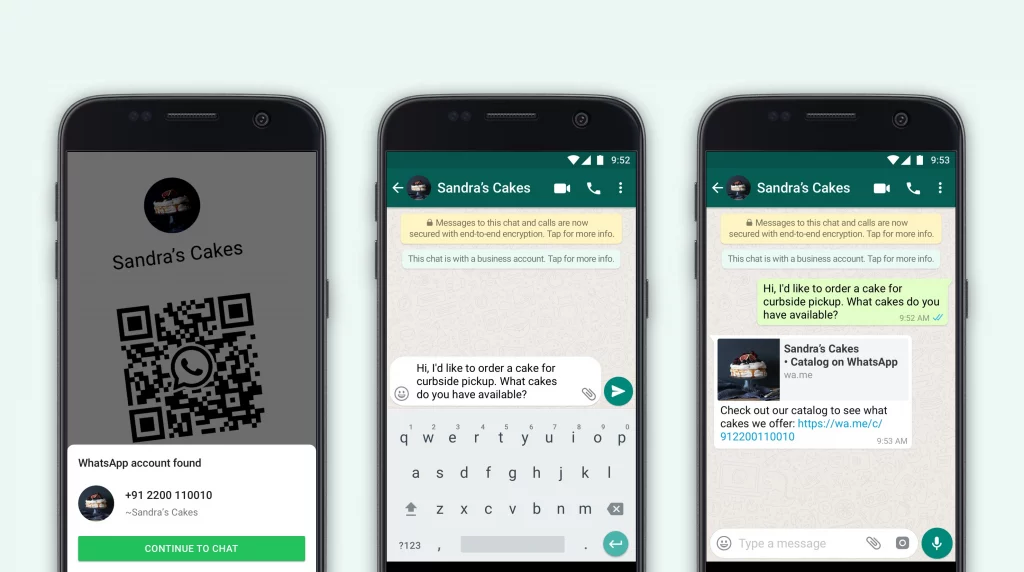 Contact information for businesses will be linked using the QR Code. When the QR Code is scanned, a WhatsApp conversation for the company's account is opened. To get things started, a pre-written message will be provided by the company. The customer, on the other hand, has the option of customizing this message.
For instance, suppose you own a bakery. You may send a pre-written message like "Hello there! I'm interested in learning more about the baked goods you sell." And instantly, the conversation will start with your customer once they scan the QR code.
Then, you can email your menu to continue the discussion, or you can share catalogs, presentations, and videos with them. If you are more than one person answering your customers queries, you would probably already use an omnichannel platform such as Rych. If not, it's probably time you look into it.
With an omnichannel tool like Rych, your team will be able to respond to the query immediately. They will get the customer's message, and you will be able to assign one of your agents to them. If the representative is unable to answer one of the questions, the administrator – in most cases yourself – will be able to join the chat as well, making things much simpler.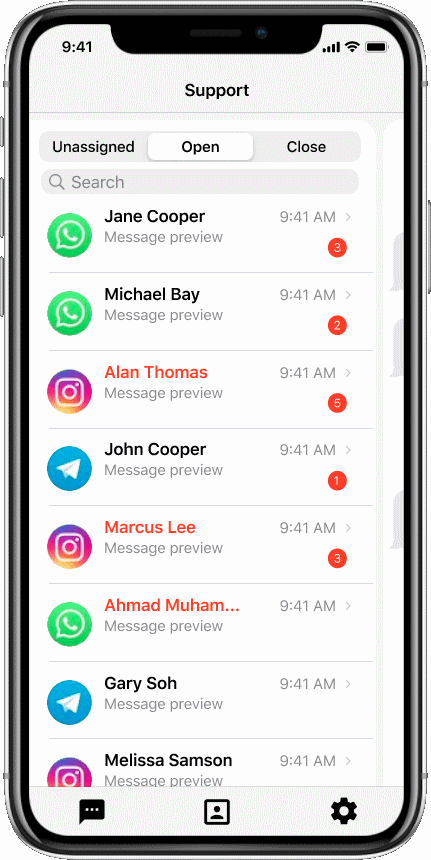 Once the conversion is complete, you or your team may add a hashtag to better identify the conversation, follow up with the consumer, or just retarget them at a later point.
How to find WhatsApp Business QR Code
This unique QR Code may be found on every WhatsApp business account. If you don't reset this QR Code or cancel your WhatsApp business account, it will never expire.
A WhatsApp Business QR Code may be found in a number of various ways on different mobile platforms, including iPhone and Android. We'll walk you through both methods step-by-step in this section.
a. On iPhone
Open WhatsApp Business > Settings.
Tap Settings > Business Tools > Short Link.
Tap QR Code to view your QR code.
b. On Android
Open the WhatsApp Business app > tap More options
Tap Business Tools > Short link.
Tap View QR Code to view your QR code.
Also, keep in mind that the Share Code button at the bottom of the page allows you to distribute this QR Code to others. Once you've done so, choose the person with whom you wish to share the info. This applies to both the iPhone and the Android operating system. The QR Code may also be shared on social media networks like Facebook, Linkedin, or SMS.
Using WhatsApp Business QR Code Scanner
A printed Whatsapp QR Code on a brochure may be all you need. To get in touch with that company, you'll need to scan this QR Code.
As an alternative, you may use a business account to scan the QR Codes directly.
This QR Code may be scanned by following these steps:
Tap on Settings in Whatsapp Business. When using Android, tap the three dots on the right-hand side of the screen to access the menu.
On the next page, choose "Business Tools."
Now, you will see the option of Short link. Tap on this.
Click on the option of QR Code
On the right hand side, you will now see the option of scan. Click on this to scan a WhatsApp Business QR Code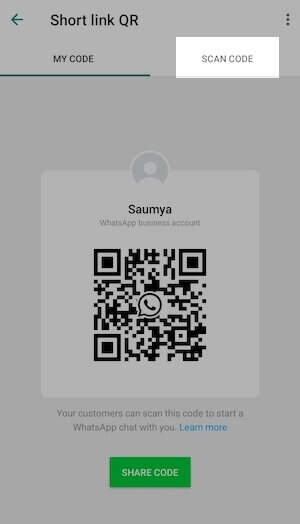 A brief link to the company account is included in the QR Code you scan. As a result, you may scan this QR Code using the camera on your smartphone.
How to reset the QR Code
As soon as you want to get rid of your old WhatsApp QR code, you may do it at any moment. As soon as you erase your WhatsApp account, the QR code associated with it is removed as well. Just follow these steps:
Open WhatsApp > tap

More options

> Settings.
Tap the QR icon displayed next to your name.
Tap More > Reset QR code > RESET > OK.
Benefits of WhatsApp Business QR Code
The WhatsApp Business QR Code is a great way to promote your business. This is why:
Make it simple for others to get in touch with you.
The WhatsApp Business QR Code is a quick way to add contacts to your account. Your consumers will appreciate how simple it is for them to get in touch with you when they see your QR Code. People may start a discussion by scanning the QR Code. Getting a discussion started is made more easier by the pre-populated text.
As a result, customers don't have to manually enter your phone number into their phonebook and store it. As a result, WhatsApp Business QR Code is a time and effort saver for businesses.
It's a contactless method
You often hand out business cards or pamphlets in order to build relationships. Your contact information may be found on this business card. Nonetheless, individuals have a fear of handling anything unfamiliar, such as a booklet or flyer, because of COVID-19.
WhatsApp QR Codes may be used to make it easier for customers to get in touch with you without having to meet face-to-face. In this case, instead of giving out business cards, you may present the QR Code on your smartphone to your potential customers. Customers may scan your QR code to go to your WhatsApp Business account without having to make any physical contact.
As a result, consumers can simply and quickly provide feedback, place an order, request further information, or file a complaint using these QR Codes.
WhatsApp employs a variety of QR Codes for various reasons, so keep that in mind. It's now possible to use WhatsApp on your PC with the help of a Web QR Code. A group QR code is also available on WhatsApp. It's simple to join the WhatsApp group after scanning the QR Code.